Summary
The NIH sponsored a fantastic 2-day Research Conference in October 2018 where thought leaders shared their latest research on SLEEP and WOMEN'S HEALTH. It's a wakeup call about the importance of sleep for the health of women.
Dr. Dinges shared his top 12 reasons to have consistent, restorative sleep. Many other panelists showcased a decade of federally-funded research advances in understanding health risks, societal burden, and treatment options associated with sleep deficiency and sleep disorders in women and families.
You can watch the 2-day event in its entirety  –  if you missed it!
Conference overview
This conference summarized current research establishing the national burden of sleep deficiency, gender-specific health risks (insomnia, CVD, dementias, metabolic disorders), and the findings from an array of initiatives examining the role of sleep deficiency in health and SES disparities of women across the lifespan. The objectives were to: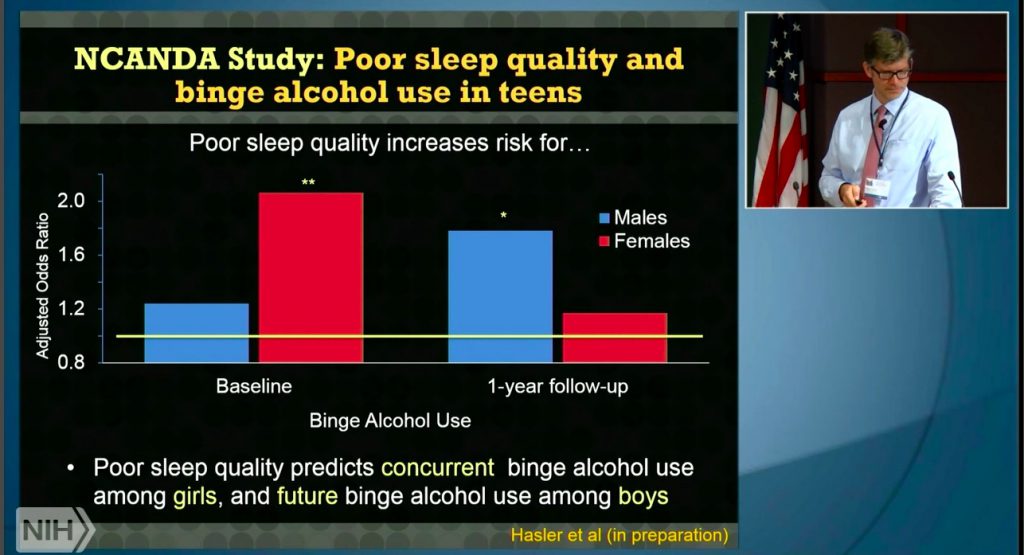 1) Highlight federally funded research advances
2) Stimulate translation of significant recent research advances through public presentations
3) Identify critical gaps/barriers to implementation.
Watch the conference!
You can watch the entire conference here … DAY ONE  … and … DAY TWO
The Speakers
Nancy Schmieder Redeker, PhD, RN, FAHA, FAAN
Tiffany M. Powell-Wiley, M.D., M.P.H., FAHA
Agenda
Day One
8:15 ….  Keynote
8:40 …  Sleep and Circadian Rhythms
9:05 …  Sleep and the Health of Women
9:30 …  Sleep and Transitional Periods Across the Lifespan
10:40 .. Sleep and Health Disparities
1:05 …  Wake Up Call (from Stakeholders)
2:05 …  Alcohol Consumption & Sleep
3:05 …  Gender/Sex-related Differences in Neurological & Mental Health Disorders
Day Two
8:15 …  Keynote
8:35 …  Cardiovascular Health in Women
9:45 …  Complementary Approaches to Sleep Disturbances
10:45 ..  Gender/Sex Differences in Glucose Metabolism
1:30 ….  Women Service Members and Veterans 
2;30 …   Circadian Rhythms, Sleep, & Cancer