Summary
The IOCDF 2018 Conference was the MOST … Inclusive, Welcoming, Engaging, Supportive, Vibrant, Well-Promoted and integrated among researchers, clinicians, and consumers … I've seen in 30 years.
No other conference I've attended has been so effective at demonstrating evidence based practices – right on site!
By the way … the International OCD Foundation (IOCDF) is offering research grants for $500,000 … in comparison to … $50,000 in the past.
Here are 6 reasons that made this a spectacular conference … for consumers and their loved ones, researchers, and clinicians alike…
1.  Inclusive
Foundation staff estimate that there's a 1/3 split between researchers, clinicians, and consumers/loved ones. They estimated that there were 1975 attendees at the conference.
…  I've attended so many conferences …
American Psychological Association (APA: Health Psychology, Media Psychology)
Association for Prevention Teaching & Research (APTR)
American Pain Association (APA)
American College of Lifestyle Medicine (ACLM)
Society of Behavioral Medicine (SBM)
Institute for Healthcare Improvement National Forum (IHI)
Association for Behavioral and Cognitive Therapy (ABCT)
American Telemedicine Association (ATA)
mHealth Summit
Sleep Summit
No other conference has been so effective at bringing together … researchers, clinicians, and consumers … to actually DEMONSTRATE evidence based practices – right on site!
Researchers
Top OCD researchers presented their science to an audience of other scientists for a full day before the conference, including a poster session at the end of the day.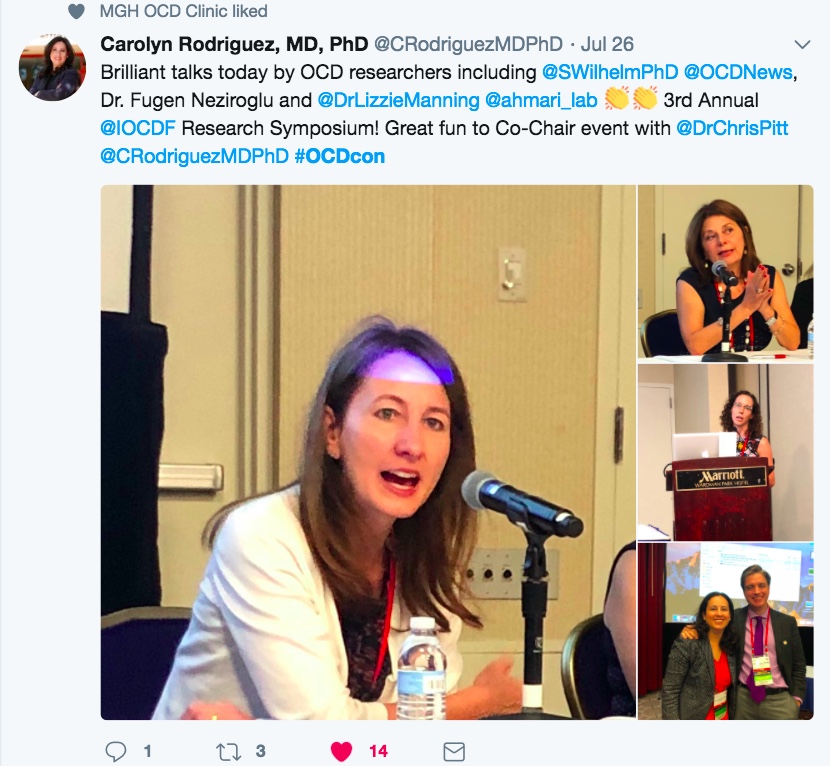 They also presented in seminars, lectures, and poster sessions – throughout the conference.  There were several tailored tracks for:  Everyone, Living with OCD, Parents & Families, Young Adults, Hoarding, Therapists, Research-to-Clinical Practice, BDD, OCD & Substance Use.  As well, one research group was recruiting study participants at an Exhibit Hall booth.
Clinicians
Clinicians also presented in workshops and seminars – including at extensive programs for kids, middle schoolers, teens, and adults.  Clinics, Hospitals, and Practices promoted their services in the program book as well as in the Exhibit Hall.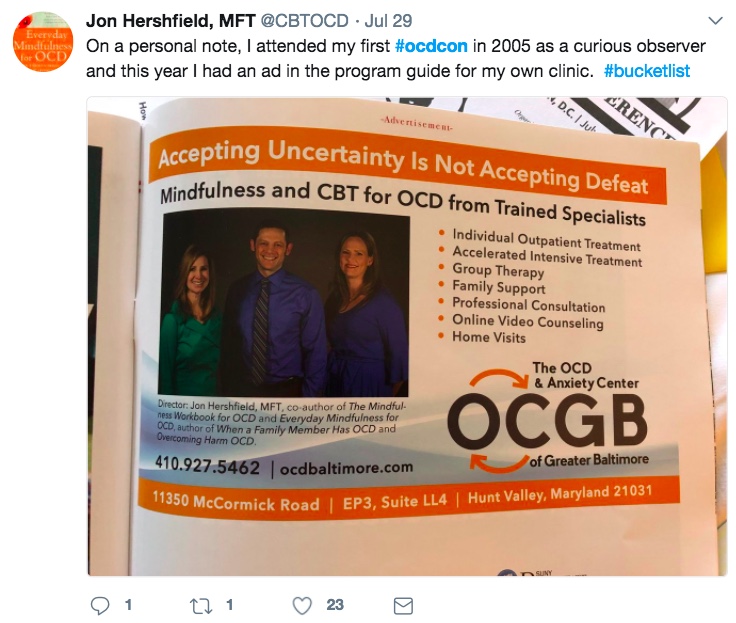 Also, clinicians led Support Groups at the end of each day. as well as other experiential ERP evening activities for consumers – of all ages (e.g., ERP Boot Camp) .
Consumers
Documentarians presented their documentary (Unstuck). Foundation Awards were presented to consumers as well as for research and service. A 'Hero Award' went to the founder of a weekly podcast, The OCD Stories, in which Stuart Ralph shares his own stories, interviews others with OCD as well as experts in the field.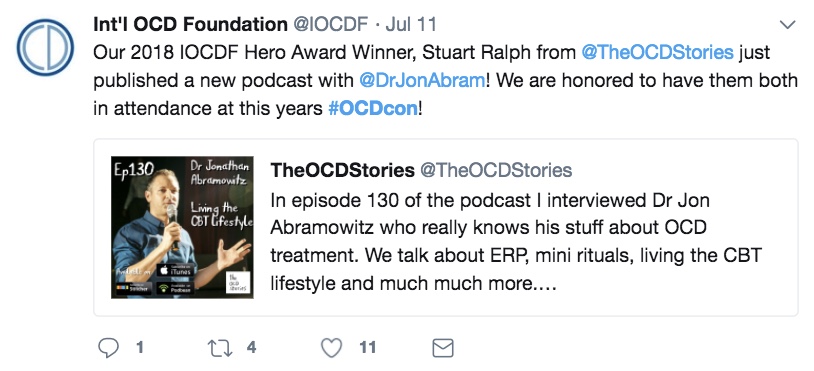 2.  Welcoming
There were tons of friendly 'Ambassadors' available, answering any question and helping to navigate to sessions. It seemed like there was always a helping hand no matter where you turned. The Foundation deploys volunteers well … not just at the annual conference, but for advocating, fundraising, etc.

3.   Engaging
This conference was for all ages!  There was even a 'Keynote Alternative for Youth' that featured a special prize for the winner of a IOCDF's Got Talent competition.  The Keynote (Dr. Drew Pinsky) spoke to 'Everyone' about moving away from stigma into empowerment and advocacy. There was an Open Mic Night, with 3 to 5 minute creative storytelling performers expressing about OCD experiences … not to mention the 18th Annual Road to Recovery Tour hosted by clincians.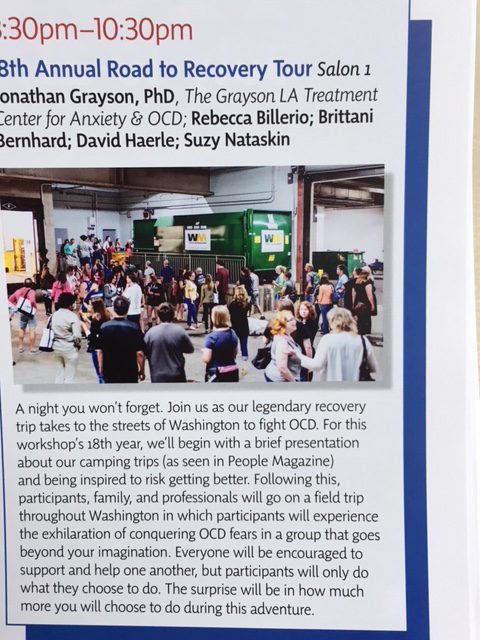 4.   Supportive
In the evenings, clinicians led support groups for you-name-it issue related to OCD (Young Adults, Body-Focused Repetitive Behaviors, Married Life, PANDAS/PANS, Substance Use, Relationship OCD, Violent and Sexual Obsessions, Scrupulosity, Diversity (color-based), Self-Injury, Health Anxiety, Postpartum, Emotional Contamination, Family & Caregivers of BDD, Contamination, Harm, BDD, Parents, Autism Spectrum, Eating Disorders, Skin Picking, Pedophilia, Sexual Orientation).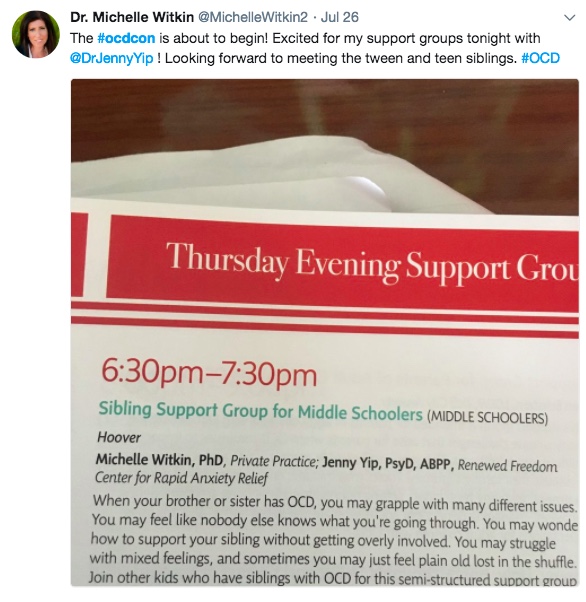 5.   Vibrant
It's pretty darn amazing … to convene all in one place  … so much support and healing … mainly using science-based strategies  …  a rabbi at the social … a Japanese child hunting OCD monsters … storytelling via a digital outlet … and so many more …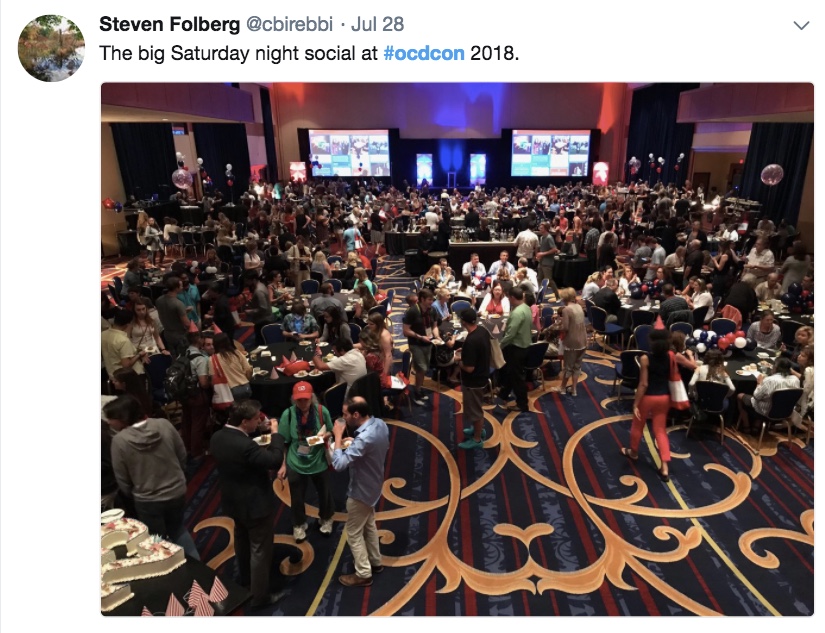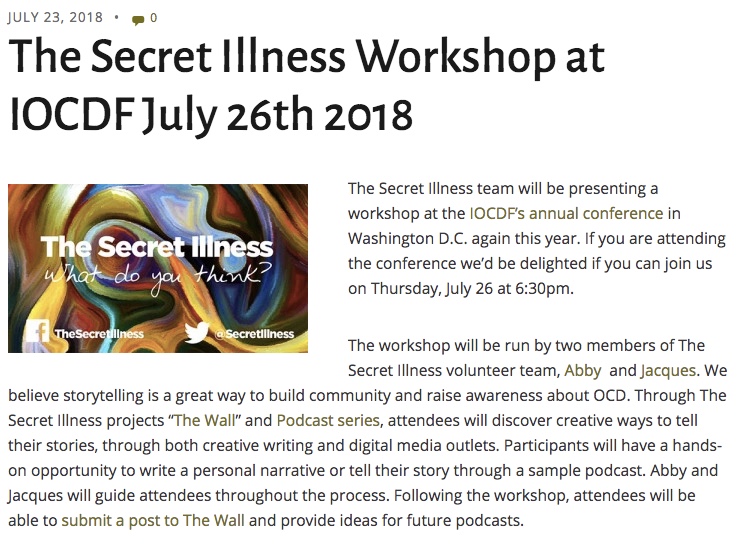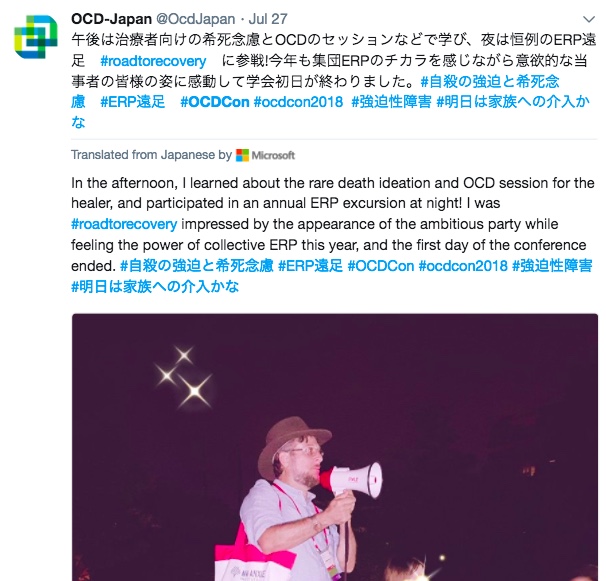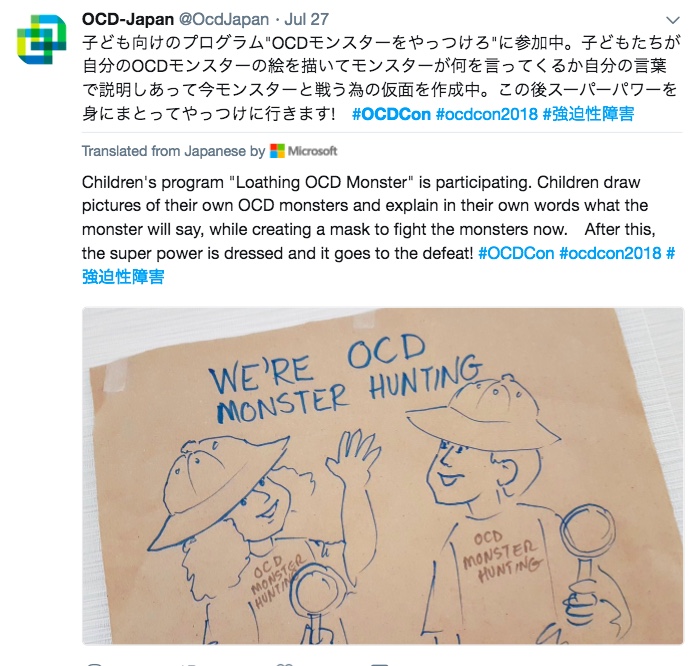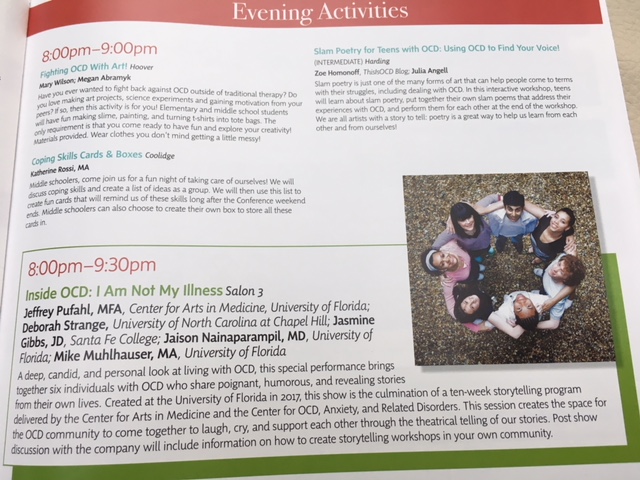 6.   Well-Promoted
A videographer who has OCD put together the main promotional IOCDF video (below). And other consumer members ('Ambassadors') tend to promote the conference with blog posts, Twitter, Instagram, Facebook, and other social media.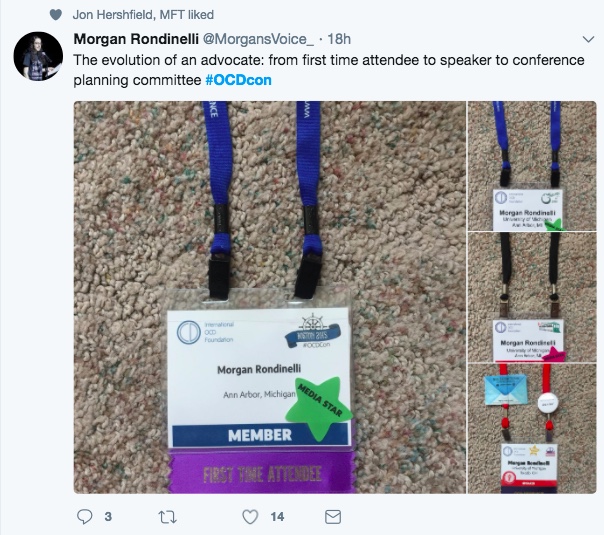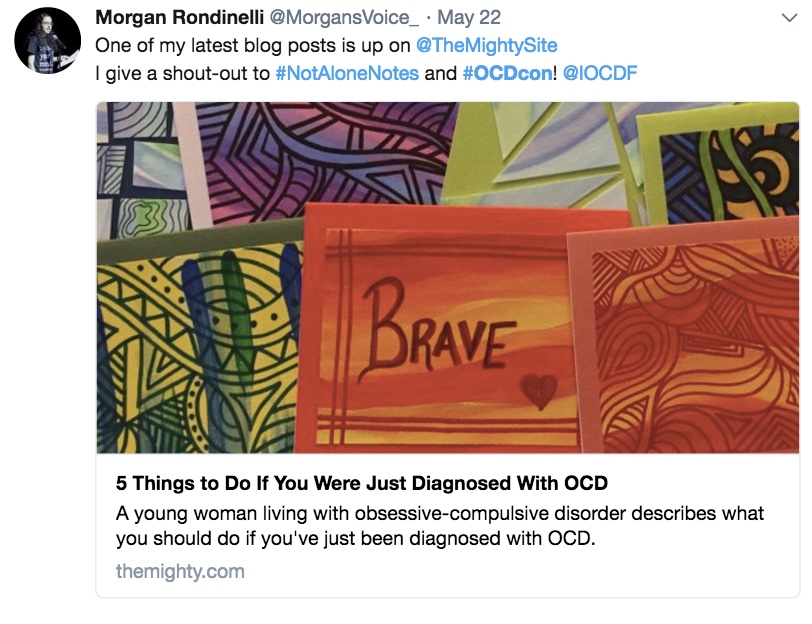 More random tweets from #OCDcon
More about the International OCD Foundation …