Summary
In 2006, Mason students believed they could be the best of the 'final four' of March Madness.  What if we could re-create that kind of excitement every year?
What is Total Fitness?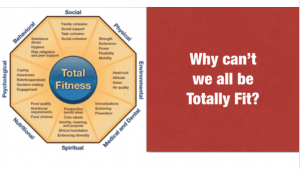 At the time I taught at the Uniformed Services University, I watched the entire military transform its definition of health to include the 'whole person' in the whole community (watch the video for more).  They used a train-the-trainer model to teach over 30,000 Army soldiers to train 10's of 1000's of other soldiers to be totally fit.
At the 2012 Living and Leading with Resilience Conference, Colonel Bates and I presented a way for George Mason University to LEAD …  kickstart an intercollegiate competition – for communities to compete to be the most totally fit – using that military training.
Creating a Culture of Total Fitness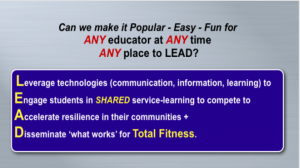 Dr. Seligman at U Penn led the Total Fitness train-the-trainer program. He stated, at the Mason Resilience conference,  "If we can train Drill Sergeants to lead resilience training in Army units, I don't see why students can't train their peers to be more resilient."
Mason's Distinguished Communication Professor, Dr. Kreps thinks it's a testable hypothesis …  The science says that if a health communication campaign makes it POPULAR, EASY, & FUN for students and faculty to join … we can create a culture of Total Fitness.
Piloting 'Shared' Service-Learning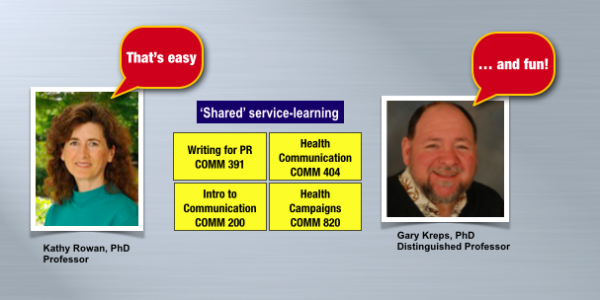 In 2010, we began pilots across 4 undergrad and graduate courses, testing some ideas …
Would faculty integrate the development of an intercollegiate fitness competition into their existing courses using service-learning?    RESULT: Yes, it was EASY for faculty.
Would students opt into a service-learning project and collaborate across courses to develop the competition together?    RESULT: Yes, they had FUN too!
Service-Learning Pilot #1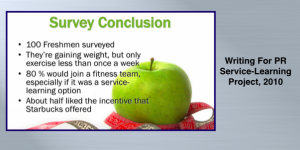 Dr. Rowan's Writing for PR class conducted a survey to learn what would make it 'POPULAR' to join a Total Fitness team. Freshmen surveyed said: (1) Get course credit (i.e., service-learning) to help develop the competition, (2) Use retailer incentive (i.e., a Starbucks gift card), (3) Use smartphone to verify points.
Survey results from the PR students were then shared with students in Dr. Kreps' Health Comm 404, who – for their service-learning project – designed the fitness challenge.
Service-Learning Pilot #2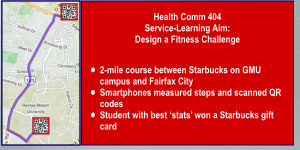 Dr. Kreps' Health Comm 404 service-learning project was to design a FUN Fitness Challenge.
They tested a mobile health app – called WIZIT – with QR codes that converted to fitness points and prizes (sponsored by Starbucks).
And, they recruited students from yet a 3rd course (Comm 200) to actually test out the fitness challenge – as a service-learning project.
Service-Learning Pilot #3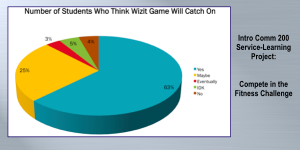 Students who opted into this service-learning project downloaded the 'Wizit' app on smartphones. The one who logged in the most laps (back & forth between 2 Starbucks) during a week, won a Starbucks gift card.
Their reactions were mostly positive with suggestions for how to improve it for the next time. Overall, students among the 3 pilots were very enthusiastic about the potential for launching and leading a March Madness for Total Fitness.
Posters & Presentations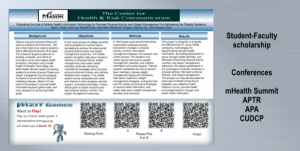 These health communication pilots were presented at 5 conferences:
2010 NIH mHealth Summit
2010 American Psychological Association
2011 Association for Prevention Teaching & Research
2011 Council of University Directors of Clinical Psychology
2012 Living and Leading with Resilience (George Mason University)
Who at Mason would join a competition?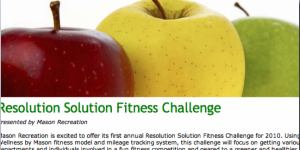 Janet Walker, then Director of  Wellness by Mason, suggested that their annual Resolution Solution fitness challenge could collaborate with an intercollegiate fitness challenge. Their coalition spans the entire University.
Educators who teach relevant courses could offer students the option to join a 'Total Fitness' team for service-learning. As students apply what they learn in courses, they'd 'serve' to improve their team's performance and/or help build the intercollegiate competition.
42 Grad Programs Would Join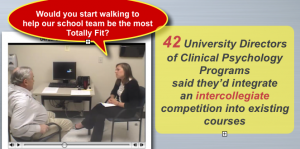 When we presented the idea of March Madness at the Council of University Directors of Clinical Psychology 2011 Conference, we surveyed these Directors.
Asked if they'd integrate the service-learning aspect into their Clinical Skills training, 42 Directors indicated that they could see it as part of their clinical Practica … engaging patients as well.
More Service Learning Projects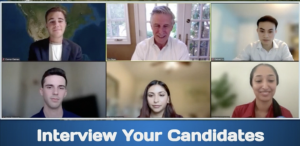 For over 10 consecutive semesters, GMU undergrads – as interns – have shown they are able to continuously manage a communication project that is run by a non-profit known as onAir.  Their mission is to bring together the George Mason community to directly communicate with their U.S. Representatives (and political candidates) to voice what matters most to them about their key issues (e.g., voting rights, student tuition, etc.).
GMU interns develop and operate livestreamed discussions and curate the onAir website. This project demonstrates that students – coming from various GMU Departments as a Registered Student Organization – can collaborate over time to continue to grow a project.  The onAir project epitomizes the concept that, if given the opportunity, Mason students could build a long term project, such as March Madness for Total Fitness, via service learning methods (e.g., civic-engaged student organizations, internships, practica, course assignments, dissertations, capstones and the like).
Next Steps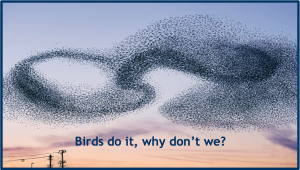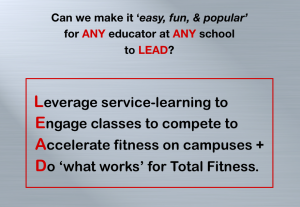 Contact us (drcary@mac.com) if you're interested in developing the idea of an intercollegiate challenge for total fitness via translating the VA  evidence-based dissemination methods for WHOLE HEALTH –  the Whole Person in the Whole Community!