Summary
Overview of CBT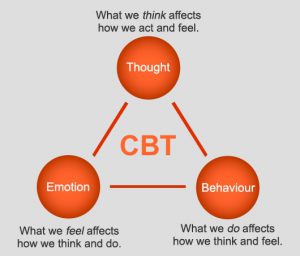 CBT is based on Dr. Aaron Beck's theory that our automatic thoughts about situations largely influence how we react – emotionally,  physically, and behaviorally. Sometimes those automatic thoughts are not exactly true, but we act as if they are. In CBT, people learn to be mindful in the moment and identify what's true and what's not. Usually, this results in significantly decreased distress.
Often when we behave in self-defeating patterns, automatic thoughts are fueled by automatic beliefs (about ourselves, others, & the world) that aren't exactly true either. In CBT, when people modify their underlying beliefs (to be more accurate), they're even able to change lifelong disturbing characteristic ways of behaving.
The goal is to teach people to learn how to identify, evaluate, and modify these patterns themselves. That's why CBT can be relatively brief, compared to traditional therapies. People can learn to be their own best therapist.
CBT works for … 
Adults
Anger
Anxiety
Agoraphobia and Panic Disorder with Agoraphobia
Dental Phobia
Generalized Anxiety Disorder
Geriatric Anxiety
Obsessive-Compulsive Disorder
Panic Disorder
Posttraumatic Stress Disorder (PTSD)
Social Anxiety / Social Phobia
Withdrawal from Anti-Anxiety Medications
Attention Deficit Disorder
Atypical sexual practices/sex offenders
Bipolar Disorder (in combination with medication)
Body Dysmorphic Disorder
Borderline Personality Disorder
Caregiver distress
Depression
Geriatric Depression
Relapse Prevention
Dissociative Disorders
Eating Disorders
Anorexia
Binge-eating Disorder
Bulimia
Gambling (in combination with medication)
Habit disorders
Marital discord
Schizophrenia (in combination with medication)
Seasonal Affective Disorder
Somatization Disorder
Substance Abuse
Alcohol abuse
Cocaine abuse (CBT relapse prevention is effective)
Opiate dependence
Smoking cessation (Group CBT is effective, as well as CBT that has multiple treatment components in combination with relapse prevention)
Suicide attempts
Medically-related Issues
Asthma with Coexisting Panic Disorder (in combination with asthma education)
Cancer pain
Chronic back pain
Chronic fatigue syndrome
Chronic pain (CBT, in combination with physical therapy, is effective for chronic pain in many medical conditions)
Colitis
Erectile dysfunction (CBT is effective for reducing sexual anxiety and improving communication)
Fatigue and functional impairments among cancer survivors
Fibromyalgia
Geriatric sleep disorders
Gulf War Syndrome
Hypertension (CBT is effective as an adjunctive treatment)
Hypochondriasis, or the unsubstantiated belief that one has a serious medical condition
Infertility (anovulation)
Insomnia
Irritable-bowel syndrome
Migraine headaches
Non-cardiac chest pain
Obesity (CBT is effective in combination with hypnosis)
Pain with no known cause (Idiopathic pain)
Physical complaints not explained by a medical condition (Somatoform disorders)
Pre-menstrual syndrome
Rheumatic disease pain (CBT that has multiple treatment components is effective)
Sickle cell disease pain (CBT that has multiple treatment components is effective)
Sleep disorders
Somatization Disorder
Temporomandibular Disorder pain
Tinnitus
Vulvodynia
Children & Adolescents
Anxiety disorders
Avoidant disorder
Chronic pain
Conduct disorder (oppositional defiant disorder)
Depression (among adolescents and depressive symptoms among children)
Distress due to medical procedures (mainly for cancer)
Obsessive-compulsive disorder
Overanxious disorder
Phobias
Physical complaints not explained by a medical condition (Somatoform disorders)
Posttraumatic stress disorder
Recurrent abdominal pain
Separation anxiety
Other issues
Aging
Family therapy
Grief and loss
Group therapy
Low self-esteem
Psychiatric Inpatients
Relationship difficulties
Separation and Divorce
Stress
Work problems & procrastination
* Quoted from The Beck Institute  (http://www.beckinstitute.org/cognitive-therapy-can-treat/)
Discuss
Post Curator
The lead curator for this What does CBT work for? post is Meredith Cary.
If you have any content you would like to add to this post, submit it to drcary@mac.com.
Feedback
Feedback discussion coming soon.
Issues